We have officially lived in our house for 1 week, we moved last Saturday and I have to say that even though it was only 36 degrees it did not rain or snow. It was a beautiful day and couldn't have been more thankful to our family and friends who helped us move. We have everything we need to "live" out and unpacked. What we are still unpacking is our boxes that sat in storage for four months. We already have two sections in the unfinished part of the basement. One for stuff we are keeping and one full of stuff for the garage sale we will be having in the spring. So the basement is coming along and will be a continued work in progress.
Our first floor is shaping up very nicely, I haven't hung up any pictures because I haven't decided where to hang anything. Also, I am reticent to put nails in our new walls. This will pass and I will be hanging pictures very soon.
I do have a complaint about the powder room, I will need to immediately find a shelf for that space. I love the pedestal sink has no place for toilet paper or even a small thing of Lysol wipes. I plan on purchasing something from either Wayfair or Hobby lobby. I think a small cabinet would be perfect in there and then I can store small items. I love the 9 foot ceilings in there and am impressed with the fixtures. Here is what I am thinking for the bathroom, it doesn't have to be a priority but running of toilet paper in there would be a small issue.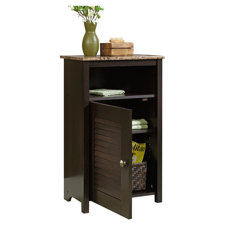 Our secondary bathroom or what we refer to as the girl's bathroom doesn't have an actual spot for drying towels. I am a bit annoyed by this because we left the apartment and we had the same issue. Where do you hang the wet towels. The towel rack is not far enough above the toilet for a wet towel and would touch the toilet. I am working on a solution to this problem but its more than that one issue. There is really no wall to put the towel bar on. One would cover the switch and the other option would be right behind the door. I have not decided on anything definitive but will update as soon as possible. I do love the actual baths. They have plenty of built in shelving (love) that helps with the bottles of shampoo and the bath toys.
I accidentally made this post about bathroom issues so I will end on this one positive note. If you are building and are debating about replacing the tub with a bigger shower then I will say this...DO IT. We took out the tub and we got a 5 foot shower and I love it. I LOVE IT. The water pressure is awesome and I love the Delta shower heads that were installed. The shower is roomy and perfect and has double sided shelves so husband and I do not have overcrowded issues for storage. The other positive about replacing the tub with the shower is you get a very large linen closet where the original shower would have been gone. I love the linen closet, I love the shower, I love the double vanity and tall counters..I love our bathroom.
I guess, I will sign off for now and next time I will talk about something besides the bathroom...Here is a picture prior to moving in..Next thing on the list is the playroom.